I spent my honeymoon pulling a U-Haul across the country to La Crosse. I'm not sure my wife has forgiven me yet, even 41 years later.
In La Crosse, not only did we find my first job at Batavian National Bank, but we also found a neighborhood we have called home since our arrival, first our "honeymoon cottage" on the 2200 block of Jackson Street and then our home on 21st Street. We have voted in the same district for more than four decades.
Elections that are truly neighborhood events make La Crosse "God's Country." Candidates and elected officials organize neighborhoods. An elected mayor, not a city administrator, helps protect those neighborhoods. La Crosse is nice because it has those neighborhoods, which many other cities our size regretfully lack.
The No. 1 issue for the Mayor is the preservation of our neighborhoods. I have a long history of that. Some City Council members have called me, "Mr. Neighborhood." (It might not have been a compliment.) If you don't have someplace to live, if you don't have someplace to raise your children, if you don't have someplace to call home after the honeymoon, then all the other issues don't matter.
Those who supported the city administrator and don't value the neighborhood effects of elections have lined up solidly behind another candidate, not a candidate who played a major role in supporting an elected mayor. A mayor does more than cut ribbons, judge cookies and welcome conventions. A good mayor knows the city's various neighborhoods, how the many city departments support our neighbors, and how departmental relationships affect the city.
I believe in elections. I resigned from City Council because I believe in elections. Because of redistricting, I no longer lived in the same district as those who elected me. By resigning, my successor can stand before the voters in April to be elected rather than be appointed by the council. District 10 will be better served and be a better-organized neighborhood because it will have the chance to elect its own councilmember. Like everybody else, I then expected to support either Matt Harter or John Medinger for mayor.
I believe in our Downtown. I have worked there for more than 40 years. Yet in the last 20 years, I have reluctantly concluded Downtown could disappear, but if our neighborhoods were strong, our Downtown would spring up again as if by magic. But, sadly, if only blighted neighborhoods surround our Downtown, grass will grow in its streets as the challenges become insurmountable. Stronger and prospering neighborhoods make for a stronger and prospering Downtown.
My last act as a La Crosse City Councilman on the night I resigned was to move to adjourn. Now, with your approval, I look to call the City Council to order … for better neighborhoods and for a better La Crosse for my grandson, granddaughter and the one on the way.
Sincerely,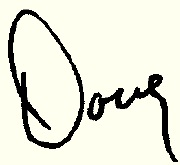 Douglas Farmer
P.S. The above is what is important to me and maybe others. But as I have knocked on doors, I have heard many times — "You have been there a long time, you will calm it down."